Clients
A smidgen of the folks we've helped with training
We provide environmental products, supplies, and equipment, analytical services,
and online compliance training to thousands of satisfied customers
in more than 100 countries spread over all seven continents.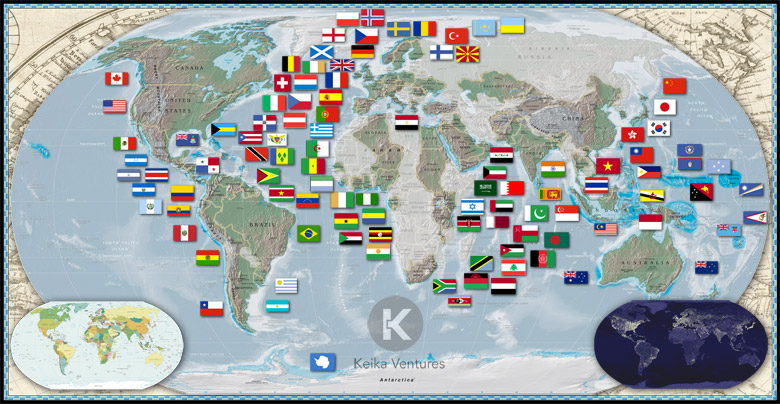 Eduwhere provides online compliance training to clients in all 50 states.
Each red dot might represent a single client or 100 students at a single facility.
Either way, each red dot gets the very best expertise and customer service
we can provide. We'd like to put your dot on our map.
Consulting & Engineering
---
AG Ambiental
Alexander Consulting
AMEC Earth and Environment
AQSR
ATC Associates
Beluga Environmental
Bird Seismic Services
CDM Federal Programs
Chugach Support Services
Clym Environmental Services
Conestoga-Rovers & Associates
Delta Environmental Consultants
Dynamac Corporation
EarthTech
Engelhard Corporation
Environmental Health & Engineering Inc.
Foster-Miller
Geotech Environmental
General Engineering Geophysics
Groundwater & Environmental Services
Haggett Engineering Associates, Inc.
Hayward Baker
Halliburton
HDR Engineering
HTE Northeast
HydroGeophysics
IES, Inc.
J.G. Tucker & Sons
JM Waller & Associates
Kleinfelder, Inc.
LEFCO Environmental Technology
Leggette, Brashears & Graham
MACTEC
Merrick Industries, Inc.
NCI Frederick Central Repository Srvs
New Horizons Environmental Consultants, Inc.
NRC Environmental Services
Potomac Environmental
Remedium Group
RR Donnelley
Rodgers Engineering Corporation
SAIC
Secor International Inc.
Tabor Consultants
TEAM Integrated Eng.
Terrasyn Group
Weston Solutions, Inc.
URS


Industrial
---
(Market Sectors Only)
Abrasives
Agribusiness
Automotive
Aviation
Brewery
Chemical
Coatings
Connectors
Cryogenics
Electronics
Fertilizer
Fiberoptic Communications
Foods
Fragrance
Insect Monitoring
Marine
Medical Technology
Metal Extrusion
Paints and Lubricants
Petroleum
Pharmaceutical
Power
Power Tools
Pulp and Paper
Rubber, Synthetic Rubber, Copolymers
Semiconductor
Switches and Relays
Synthetic Fiber
Textile
Vacuum Technology
Water Treatment
Wire Technology
Service Sector - General
---
ABC Hauling
Anchorage Police Department
Arista Labs
Avis Rent a Car
Bombardier Transportation
Cendant Car Rental Group
Certified Laboratories
Chillicothe Fire Department
CompuChem Labs
Frankenmuth WWTP
Intercontinental Hotels
Long's Aircraft Service
Macon Water Authority
Mail Boxes Etc
Midwest Laboratories
Navajo Housing Authority
Pasadena Unified School District
PEL Labs
San Jose, City of
Stambaugh Aviation
Sunland Distribution
TASQA Analytical Services
Terminix Commerical
Triangle Laboratories
Town of Mooresville
Tucson Clinical Research
Southern Analytical Labs
UDL Laboratories
Vanguard Car Rental
Waste Management
Yosemite Concession Services

Service Sector - Medical
---
Alamance Regional Medical Center
Alpha Therapy Research Center
Asheville Gastroenterology Associates Banner Health
Barbara Davis Center (UCHSC)
Bakersfield Dermatology
Black Hills Regional Eye Insitute
Boston College
Birmingham Zoo
Capital Clinical Research Associates
Central Baptist Hospital
Central Maine Orthopaedics
Children's Hospital & Res. Ctr Oakland
Driscoll Children's Hospital
DUHS Clinical Laboratories
Gladys Porter Zoo
Greek American Rehab/Nursing Center
Heights Primary Care
High Point Neurological
Houston Eye Associates
Island Neurological Associates
Laser Surgery Care
Loma Linda University Medical Center
Low Country Lung & Critical Care
Medical College of Georgia
Miami Jewish Home and Hospital for the Aged
Minnesota Eye Consultants
Naval Medical Research Center
Neurology Group, PC
Next Phase Clinical Trials
Oklahoma Animal Disease Diagnostic Laboratory
Pathology Associates
Peoria Pulmonary Associates
Pinnacle Trials Inc
Providence Medical Group
Redpoint Research
St. Dominic Jackson Mem. Hospital
St. Lukes Hospital
Sarasota Memorial Hospital
Scipps Health
Servicios en Salud Ocupacional
Sherman Hospital Clinical Laboratory
Sproul Medical Center
South Broward Research
Tucson Clinical Research
Unity Health Care
Upstate Urology
VA Medical Center
Walter Reed Army Institute of Research
UCSF at SFGH

Government
---
Calf. Dept. Health Services
City of Abilene
City of Detroit
County of Custer, Montana
Bureau of Land Management
Dallas Co. Household HazWaste Program
Dept. of Homeland Security
FEMA
Food & Drug Administration
Lower Colorado River Authority
Navy Public Works Center
NOAA
NOAA - Fisheries
NIOSH
NY State Dept of Health
Tobyhanna Army Depot
Sandia National Labs
Sarasota County Government
State of Nevada
US Bureau of Reclamation
US Air Force
US Air Force Reserve
US Army
US Army Reserve
US Army Ctr for Health Promotion & Prevention
USDA Forest Service
USMC
US Environmental Protection Agency
US Naval Station - Ingleside
Virginia Department of Health

Universities
---
Bard College
Brown College
Boston College
College of William and Mary
Concordia University
Cornell Univeristy
CUNY City College
Duke University
Durham Public Schools
Florida Atlantic University
Georgetown University
Gordan College
Indiana University
Loma Linda University Medical Center
Medical College of Georgia
Montgomery Community College
NCSU
Northaven Elementary School
Old Dominion
Rollins College
UCSF
University of Arkansas
University of Connecticut
University of Georgia
University of Nevada, Las Vegas
University of South Alabama
University of Tennessee
University of Texas at Tyler
Vassar College
Virginia Tech
Weill Medical College of Cornell Univ.