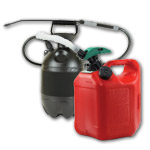 This course covers the fundamentals of transporting hazardous materials under the Materials of Trade exception (MOT). Our 5-step approach encompasses the activities which must be addressed when transporting a hazardous material in a company vehicle for use in its business. Participants will learn how to identify hazardous materials, select proper packaging, mark and label containers, all in accordance with the US Department of Transportation MOT regulations.

The US DOT requires training for anyone who handles hazardous materials including individuals transporting materials of trade.

This course is designed to meet the training requirements as specified in 49 CFR 172.700 Subpart H and the materials of trade requirements found in 49 CFR 173.6. At the completion of the course, participants will receive a certificate which includes the participants name, completion date, and copy of the test scores. The certificate includes the name and address of the trainer as required by the DOT for recordkeeping.

This course is based on the requirements for training as specified DOT, including testing of participants.
Who Should Take This Course
Individuals who transport hazardous materials under the materials of trade exception, including:
persons transporting hazardous materials between company locations;
field personnel, including painters, lawn care professionals, pesticide applicators, environmental consultants, etc;
maintenance workers;
sales representatives transporting samples.
Objectives

The purpose of the course is to assist companies with compliance related to the DOT Materials of Trade exception. Participants should gain a better understanding of the MOT requirements and be better prepared to transport hazardous materials for company business. Participants will learn what hazardous materials can be transported under the MOT exception, and in what quantities.


Topics
Training Requirements
Identification and Classification of Classes
Packing Groups
Proper Shipping Names
What Hazardous Materials Apply
What Quantities Can Be Shipped
Packaging Requirements
Marking and Labeling
Information for Drivers of MOT
Instructor

Linda R. Taylor, PE
Ms. Taylor is a faculty member in the Department of Forestry and Environmental Technology at NC State University and is the former Director of Environmental Health & Safety at North Carolina State University's IES. She has over 20 years of engineering experience working in industry and environmental consulting, most recently with Progress Energy. She has provided instruction on a wide range of environmental, health, and safety topics at conferences and training courses, both live and online, and she is an OSHA authorized instructor.

Ms. Taylor received a BS in Civil Engineering from Stanford University and a MS in Environmental Engineering from the University of North Carolina at Chapel Hill.


Contact Hours
2 Contact Hours

This represents the estimated time to complete the online course, including exercises. Actual times may vary from user to user.
---

The course fee entitles a single user to participate in the online course for at least six (6) months. Requests for additional time will be considered on a case-by-case basis, but are almost always honored. Hardcopy certificates are mailed (first class for domestic locations/standard airmail for international locations) and included in the course fee. Expedited shipping costs are additional.